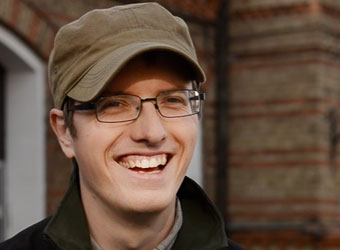 Kārlis Dambītis
If you mention Kārlis' name to his co-workers at the Latvian Museum of War, they will usually pause and, in serious voice, say: Oh, he knows a lot about the Latvian War of Independence. And, that's no understatement. Kārlis is a walking encyclopedia of this period in Latvian history. His approach to history combines the analytical mind of an academic and the passionate zeal of a hobby historian. He is currently finishing his PhD at the University of Latvia and has been a historical consultant for film projects.                         

The Latvian War of Independence
The Latvian War of Independence was a series of military conflicts between December 1918 and August 1920. This tour focuses on a particular period of the Latvian War of Independence, known as the Bermont Affair

In 1919 the Russian General Pavel Bermont-Avalov led an attack on Rīga with the West Russian Voluteer Army. This army consisted of Germans and Russian prisoners of war allied with the White Army.

The significance of the battles
Latvia's success over the Bermont army had a tremendous impact on Latvia in the years that followed. The victory proved that the young and small nation of Latvia could defend itself against formidable force. The battles have inspired countless books, such as Alexandrs Grīns', Dvēseļu putenis (english: Blizzard of the Souls) and the 2007 film Rīgas Sargi (english: Riga's Defenders. Practically, every bookstore in Rīga carries copies of it.).

Staff notes
Can I get everywhere on foot?
You can get from the Rīga Castle to the the Student Brigade Monument on foot. It's a nice walk along the Daugava. But if you want to get out to Bumbukalns and Daugavgrīvas, you'll only be able to get there by car.

Daugavgrīva Castle Opening Times
Daugavgrīva Castle is one of the secret gems of Riga and really worth the trek. Unfortunately, the opening times seem to change every now and then. Ask a hotel concierge to track down current opening times.

Is this tour for me?
This tour is for serious history buffs. If you've ever toyed with the idea of taking part in a reenactment of the Battle of Waterloo, then this tour is for you.